MEET AMANDA
The first English words I learned were "Hello! How are you?" at the age of nine on the plane as I emigrated from Taiwan to the suburbs of Chicago in 1987. My mother and brothers stayed in a single room in a friend's house while my parents saved enough to bring me over and to move to a place of our own. This was my parents' American dream: to raise their children with an education that fosters creativity and to raise their daughter in a society where women are heard.
My call to service started in childhood. My father is a retired public servant in Taiwan and my mom is a retired professor. My family instilled the belief that community is greater than self. My parents explained this concept in a common Chinese proverb: Distant water will not put out a nearby fire. With no family here in the States, we depended on our extended community to support us as our family navigated a new culture, different customs, and a language that came with an alphabet.
After meeting my husband in Chicago and deciding to have a family here in the city, we settled in Logan Square almost ten years ago. We loved the roots that so many of our neighbors have in this community. We chose Logan Square because we loved the vibrancy and life of the neighborhood; a nostalgic reminder of my home in Taipei. We decided this is the perfect place to make our home and raise our three children, now ages 7, 5, and 1 year-old.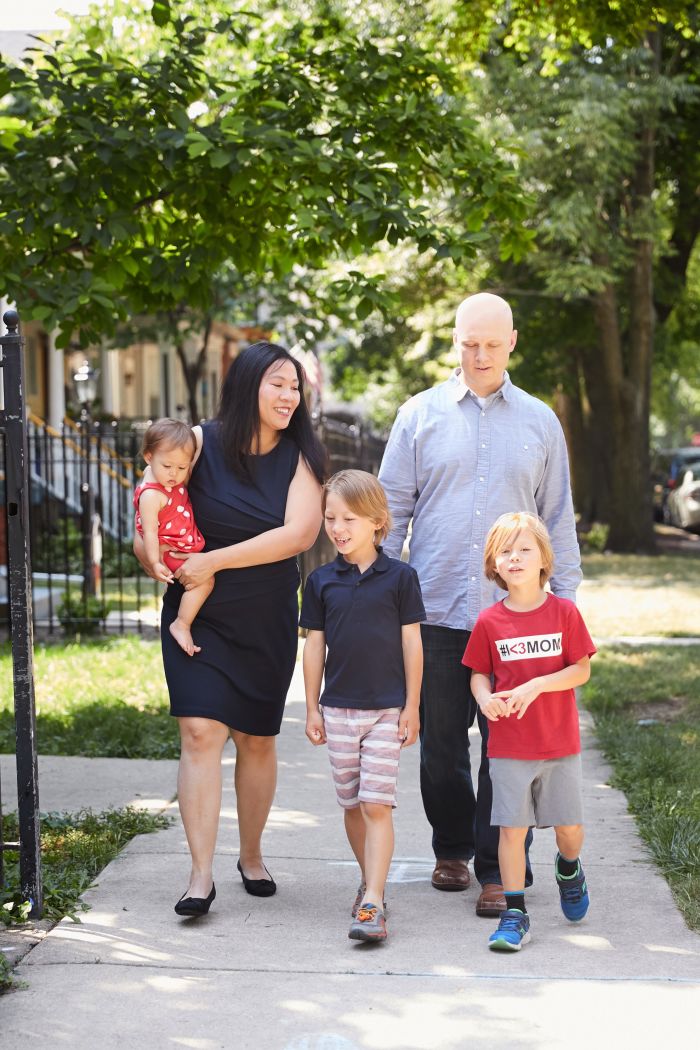 Community is built on real interpersonal relationships. Individually we may identify with the women's movement, or Black Lives Matter, or progressives; maybe all three or maybe none. We may identify as immigrants, migrants, long-time residents, or newcomers. But we are all a part of this community. When we meet our neighbors and share our stories, we begin to find identities that connect us. That connection is the basis for building an inclusive and equitable community with a place for all regardless of the individual groups to which they belong. When politicians talk about our differences instead of our similarities, we start to focus on those divisions and lose our trust, compassion, and empathy for one another. I believe we are better than this.
Without a strong community coming together to help my family settle into our home in the US, I would not have had the opportunities I was so fortunate to have growing up here. This is why I am running. Because I care about building a community where all feel they belong. Because I care about making sure that everyone receives the same high level of constituent services whether they've been here for three months, three years, or three generations. Because I care about ensuring we have an inclusive community where we advocate for equitable legislation on important issues affecting our residents, in: housing, healthcare, public education, safety, services, transportation, local economy, and sustainability.
I believe when we come together as a community, we are stronger. I believe in making sure all our neighbors have a voice in an inclusive democracy. This is why I am asking for your support and your vote on February 26, 2019.